Company Information
Greetings
Message from the President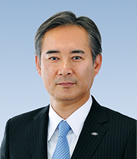 We have established a new formation to expand energy solution business in the continued pursuit for perfect-fit solutions for our clients.
Hiroshi Sasaoka
President
On April 1, 2018, Sharp Corporation transferred a part of its energy solution business to Sharp Energy Solutions Corporation (SESJ), a wholly owned subsidiary dedicated to the category, allowing more flexibility to meet customer needs with accuracy and promptitude, and covering every relevant activity, from development and marketing to installation and after-sales service, in Japan and abroad.
As an example in the area of residential homes, our accumulated knowledge and creativity help us to stay one step ahead of today's needs for self-sufficiency in renewable energy, creating Smart Homes that integrate "people-oriented" IoT appliances with energy solutions.
In the field of industry, we are transitioning to a highly specialized, professional organization that can create new business models providing peak-cut systems and virtual power plants (VPPs) that reduce electricity costs by effectively linking solar power generation with storage battery technology.
Furthermore, we are aggressively taking part in the construction of mega-solar plants and large-scale roof-top solar installations, in efforts to contribute on a large scale, to the deployment of renewable energy.
Your continued support and cooperation in our business activities would be highly appreciated.
Company Information
Company Overview
Nature of business, history, and more
| | |
| --- | --- |
| Company name | Sharp Energy Solutions Corporation (SESJ) |
| Representative | Hiroshi Sasaoka, President |
| Location | 3-1-72 Kita-Kamei-cho, Yao, Osaka 581-8585, Japan |
| Business | Planning, development, marketing, and servicing of residential solar power equipment, storage batteries, HEMS, etc.; design, installation, and maintenance of commercial solar power equipment; management of megasolar IPP projects; other energy solution businesses |
| Capital | 422 million yen |
| Fiscal year-end | March 31 |
| Construction business license number | Electrical contracting business: (Special-28) No. 4690 (Issued by Minister of Land, Infrastructure, Transport, and Tourism) Plumbing business: (Special-28) No. 4690 (Issued by Minister of Land, Infrastructure, Transport, and Tourism) Telecommunication engineering business: (Special-28) No. 4690 (Issued by Minister of Land, Infrastructure, Transport, and Tourism) |
| Main qualifications held by SESJ engineers | 1st-class/2nd-class electrical work operation and management engineer Type 1/type 2 electrician Type 3 chief electrical engineer 1st-class/2nd-class plumbing work operation and management engineer Electrical work and plumbing work managing engineer Building mechanical and electrical engineer |
History
| | |
| --- | --- |
| March 1968 | Established as Osaka Sharp Specialized Equipment-installation Company, a wholly owned subsidiary of Sharp Corporation |
| May 1970 | Name changed to Osaka Sharp Equipment Corporation |
| October 1978 | Kinki Sharp Equipment Corporation, Chubu Sharp Equipment Corporation, Chugoku Sharp Equipment Corporation, and Kyushu Sharp Equipment Corporation were merged to form Nishi-Nihon Sharp Equipment Corporation |
| April 1990 | Nishi-Nihon Sharp Equipment Corporation absorbed the equipment and machinery division of Sharp Engineering changed its name to Sharp Technosystems |
| July 1998 | Sharp Technosystems absorbed the environmental systems machinery sales group of Sharp Electronics Sales Corporation, Sharp Engineering Corporation, Sharp Finance Corporation, and the solar power systems sales business of the electronic components sales group of Sharp Corporation, and changed its name to Sharp Amenity Systems Corporation |
| April 2013 | Company name changed to Sharp Energy Solutions Corporation |
| April 2018 | Company absorbed a part of Sharp Corporation's energy solution business |